Sharkey fire killer Scott Snowden stripped of assets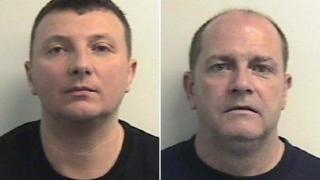 A drug dealer who is serving a life term for murdering three people in a deliberate house fire in Helensburgh has been stripped of his assets.
Scott Snowden, 39, set the fire on 24 July 2011 that killed Thomas Sharkey Snr, 55, his son Thomas Jnr, 21, and daughter, Bridget, eight.
He was jailed for a minimum of 33 years. Co-accused Robert Jennings, 51, was jailed for 29 years.
Snowden will face a Proceeds of Crime bill for £119,000 if he is ever freed.
Prior to his conviction for murder in July 2013, Snowden was convicted in October 2012 of involvement in the supply of drugs and jailed for 19 months.
'Cowardly murders'
An investigation established that he was the head of a crime gang and his total profit over the six years prior to his arrest was £119,000.
Prosecutors have now been granted a confiscation order for that amount if Snowden is ever released.
The order means that he will lose all of his current assets, which total £8,500.
Procurator fiscal Lindsey Miller said: "Scott Snowden was convicted of the cowardly murders of three members of the Sharkey family, and will be in prison for more than 30 years.
"Through the powers of the Proceeds of Crime Act, we have now also stripped away all of his remaining assets, and if ever he emerges from prison we have ensured that he will face further action to secure repayment of the rest of his criminal profits."
The fire that killed three members of the Sharkey family was set in the early hours of 24 July 2011.
Thomas Sharkey Snr was asleep downstairs and managed to climb out on to a ledge, where he was rescued by firefighters.
Toxic smoke
He had breathed in toxic smoke and sustained 30% burns to his body. He died in hospital six days later from multiple organ failure.
His son, Thomas Sharkey Jnr, was pronounced dead at the scene and his daughter, Bridget, died in hospital later that morning. Both died from smoke inhalation.
Mr Sharkey's wife Angela was the only member of the family to survive the blaze.
She eventually came off a life support machine only to be told by relatives that her family was dead.
Snowden and Jennings were also convicted of attempting to murder Angela Sharkey and of attempting to murder three members of the McGinley family, in a separate attack, by setting fire to their home.
The sentences handed out by Lord Matthews to Snowden and Jennings were among the longest ever passed in Scotland.
Last year, both murderers failed in an appeal against their convictions.