Saltcoats school cleaners share £1m Euromillions win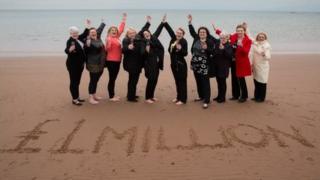 A syndicate of school cleaners from Saltcoats in North Ayrshire has won £1m in the EuroMillions lotto draw.
The 18 members, who work at St Matthews Academy and are aged from 24 to 63, will each receive £55,555.55.
Their winning ticket, bought from the town's News Stand shop, had the Million Maker code for the draw on 6 March.
They intend to spend their winnings on a number of things including sunshine holidays, new televisions and decorating their homes.
Syndicate leader Claire Roberts, 31, said: "The timing could not be better. I've just booked for myself, mum and my daughter to go on an all-inclusive holiday to Spain.
"I can now pay that all off without worrying and look forward to a fantastic summer."
The 10 members of the St Matthew's syndicate who opted to take publicity were: Margaret Roberts, 55, Gwen Golding, 36, Jane McCann, 56, Rosie McLeod, 61, Lianne Anderson, 59, Jean-Marie McCubbin, 41, Claire Roberts, 31, Sheena Frew, 63, Ann Kerr, 55, and Mary Wilkie, 57.