Martin Toner murder trial: Farmer tells of finding body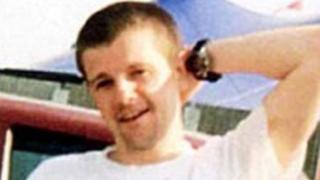 A farmer has told a murder trial how he found a body lying under a hedgerow as he worked collecting hay bales.
John Baxter said he was working in a field at North Glen Farm, Langbank, Renfrewshire, at about 01:00 on 13 July 2004 when he saw the remains.
The 58-year-old said the body was partially covered in cut grass. It was later identified as Martin Toner, 34.
Douglas Fleming, 50, and John McDonald, 57, both deny murder. The trial at the High Court in Glasgow continues.
Mr Baxter told advocate depute Alex Prentice QC, prosecuting: "I was picking up the bales and I got to the last bale which was at the gate to the field.
'Graphic images'
"As the tractor lights came round I saw something lying under the bushes. I stopped and reversed back and jumped out of the tractor and went over to within four or five feet from the body. I could see the head and a bit of shoulder.
"I had enough sense not to touch anything and telephoned the police."
During Mr Baxter's evidence the jury was handed a book of photographs and warned that some of them may be distressing.
Mr Prentice told them: "This book contains some graphic images which may come as a shock to those not used to this kind of thing."
The first police officer on the scene, Det Con Lesley Petrie said: "I could clearly see there was a body. As I took a few steps closer I could smell a deceased body."
Det Con Petrie told the jury of seven men and eight women that Mr Toner's body was about 10m to 12m away from the gate into the field under a hedgerow.
Dr Angus Blyth, 69, who is now retired, told the court that he was called out about 05:00 on 13 July 2004, in his capacity as a police surgeon.
He said that he had made a brief examination of the body.
'Stab wounds'
Dr Blyth said: "He was lying face down at the side of the field. The body was covered to a large extent by grass cuttings.
"On carefully lifting away the grass I noticed an apparent wound under his left jaw. There was also what appeared to be blood staining on the deceased's back.
"On gently lifting up his clothing top several stab wounds were noted."
Dr Blyth said in his opinion: "He had been murdered by stabbing either here or at some other locus and had then been dumped or placed here."
The court was also told that Mr Fleming had served as a police officer with Central Scotland Police for three years.
Graham Noble, 48, head of human resources with Central Scotland Police and now Police Scotland, said he was contacted in 2009 by Strathclyde Police and asked about Mr Fleming.
He told Mr Prentice that Mr Fleming was a serving police officer from January 1985 until November 1988.
Hotel work
Mr Fleming, and Mr McDonald, from Glasgow, are alleged to have killed Mr Toner at the garden and grounds of the Coach House at Gleddoch Estate, Langbank, and Gleddoch Estate on 29 June 2004, after inducing him to travel there from the Key to Life Gym in Pollokshields, Glasgow.
The court also heard that at the time of Mr Toner's death, Mr Fleming was living at the Coach House with his then partner, Pauline Agnew.
Leslie Conn, 59, the former general manager of Gleddoch Hotel and Golf Club said that Ms Agnew's father, Paul Agnew, owned the estate in 2004.
He also told the court that Mr Fleming's construction company, Delta Construction, had carried out renovation work at the hotel and the clubhouse.
Mr Fleming has lodged a special defence of incrimination against six men.
Both men also deny a further charge of attempting to defeat the ends of justice.
The trial before Lord Armstrong continues.