Volunteers sought for new £842m South Glasgow hospital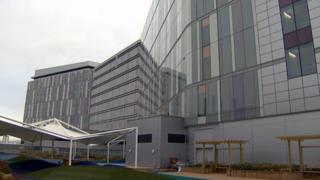 A recruitment drive has been launched to find 200 volunteers to help out at Scotland's largest hospital ahead of its planned opening in May.
The volunteers will be welcome and guide visitors at the new £842m South Glasgow University Hospital.
They will also provide help on the use of self-service check-in kiosks and assist patients to waiting areas.
NHS Greater Glasgow and Clyde (GGC) said anyone interested should email: margaret.young4@ggc.scot.nhs.uk
Selected volunteers will wear distinctive red polo shirts, which will display the NHS GGC logo, and be clearly marked Volunteer.
Margaret Young, corporate lead for volunteering at NHS GGC, said: "Our volunteers are not substitutes for our professional, paid colleagues and we are very proud of the role they play, by giving freely of their time they are complimenting the professional care patients receive.
"We believe this is a great opportunity for volunteers to be part of our new state-of-the art hospitals to compliment the professionalism of our committed employees.
"Many volunteers are service users themselves, from all walks of life, and have often said that volunteering can aid their own recovery."