Martin Toner murder trial: Brother questioned accused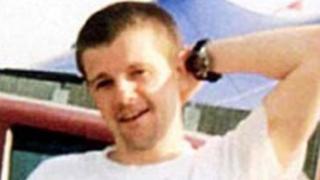 The brother of Martin Toner has told a jury about questioning one of the men accused of murdering him.
James Toner said he did not believe Douglas Fleming's account of taking Martin Toner to Langbank the day he went missing.
Martin Toner, 34, went missing on 29 June, 2014 and his body was found in a field in Langbank on 13 July, 2004.
Mr Fleming, 50, and 57-year-old John MacDonald deny murdering Mr Toner near Langbank.
The pair are alleged to have killed Mr Toner at the garden and grounds of the Coach House at Gleddoch Estate, Langbank, and Gleddoch Estate after inducing him to travel there from the Key to Life Gym in Pollokshields, Glasgow.
When police found Mr Toner's body, he had suffered stab wounds and his throat was cut.
'Reassuring wink'
James Toner told the High Court in Glasgow that he met Mr Fleming at a tearoom near the Erskine Hospital on 2 July, 2004.
Questioned by Alex Prentice QC, prosecuting, James Toner said he was driven to the venue by Mr McDonald, and added: "Mr Fleming was sitting at the back of the cafeteria. I believe he gave Mr McDonald a reassuring wink."
He was asked what Mr Fleming told him and replied: "He said that he received a phone call from Martin on Mr McDonald's phone on June 29, 2004, asking him to meet him at the Key to Life Gym.
"He said they had something to speak about. Mr Fleming said the two of them left together to go to Langbank to pick up something."
Mr Toner told the jury Mr Fleming said he and Martin Toner had gone to Langbank on 29 June, 2004, to get £100,000 which was hidden in a tennis court.
He added: "Mr Fleming said the money was hidden and Martin was very anxious to get his share.
"He said it was in £10,000 bundles. Mr Fleming said he took one of the bundles and Martin put the other nine in his rucksack. Mr Fleming then said he dropped Martin at Langbank station."
Train journey
Mr Toner said Mr Fleming claimed he had driven his brother to Langbank because he had lost his car keys.
He went on: "I challenged the key story and I also challenged that he left Martin to go on a train with the bag. I said I didn't believe what I was being told.
"My brother didn't use public transport and he wouldn't have been carrying a bag with £90,000 on a train."
Fleming has lodged a special defence of incrimination against six men. Both men also deny a further charge of attempting to defeat the ends of justice.
The trial before Lord Armstrong continues.