Fire crews tackle blaze at Govan church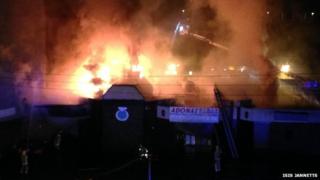 Fire crews have been tackling a blaze at a church in Glasgow.
Residents in a neighbouring four-storey tenement had to be evacuated after the fire broke out at the building on Crossloan Road, Govan, at about 22:30 on Sunday.
At one point, 35 firefighters were tackling the "well-developed fire" where flames shot through the roof of the single-storey building.
At 08:00 on Monday 25 firefighters were still at the scene.
Some residents were given emergency accommodation. Others were advised to keep their windows and doors closed due to the smoke.
There were no reports of any injuries.