Ardrossan shoreline closed in training mine scare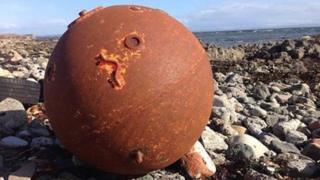 A stretch of coastline was sealed off in North Ayrshire following concerns that an unexploded mine had washed up.
The object at Ardrossan was reported to the town's coastguard rescue team just before 15:00 on Wednesday.
The area was cordoned off and contact made with Explosive Ordnance Disposal at the Clyde naval base.
Experts confirmed it was a dummy mine used during training exercises and did not contain any explosives and posed no danger to the public.
Arrangements were made for the object to be recovered by the Royal Navy.
Coastguard incident tape was placed around the practice mine to avoid future callouts.