Woman who embezzled £180,000 from Glasgow law firm jailed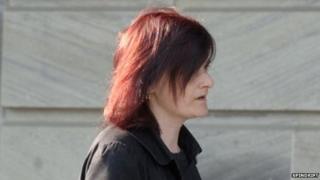 A "trusted employee" of a top legal firm has been jailed for 21 months for embezzling almost £180,000.
Teresa Kidd, a purchase ledger supervisor at Maclay Murray and Spens LLP, stole tens of thousands of pounds while funding her then-partner's gambling habit.
The 44-year-old, of Cumbernauld, admitted taking £178,669 from the Glasgow firm, based in George Square.
Glasgow Sheriff Court heard she had been under "psychological pressure".
Kidd, who had joined the firm in 1987, duped bosses into signing off documents they thought detailed cash being used to pay for the services of advocates, but which was instead paid into accounts owned by her and her partner.
The grandmother perpetrated the complex fraud, which involved submitting certain company invoices twice in order to funnel funds into her accounts, for five years.
She was caught during an investigation in January 2012, and subsequently admitted her guilt and accepted full responsibility.
'Psychological pressure'
The court heard that Kidd's then-partner was a heavy drinker and gambler, who put her under "psychological pressure" to take the money.
Defending, solicitor advocate Ross brown said: "This is completely different to a person who undertook a calculated course of conduct for personal gain."
Sheriff Ross McCormick said he took the partner's involvement into account, as well as the fact she was a first offender, but jailed her for 21 months.
He said: "You were a longstanding and trusted employee of a firm of solicitors in Glasgow, you used that trust and experience to embezzle £178,000.
"You did so skilfully, repeatedly and over a period of approximately five years."