Pedestrian seriously injured by car on A73 in Lanarkshire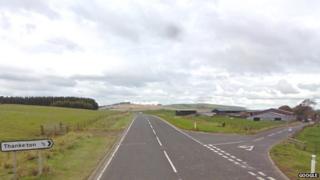 A 40-year-old man has been seriously injured after being hit by a car while crossing the road in South Lanarkshire.
The man sustained head injuries after being struck by a southbound Ford Kuga on the A73 at Sherifflats Road, Thankerton, at about 11:10 on Thursday.
He was taken by air ambulance to South Glasgow University Hospital.
The 71-year-old car driver was unhurt. The A73 at Sherifflats Road was closed for six hours after the incident. Police have appealed for witnesses.