Boy's death prompts calls to improve cemetery safety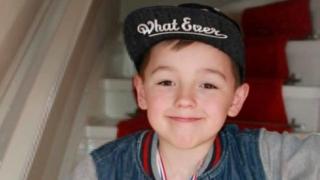 Former Scottish Labour leader Johann Lamont has called for safety to be improved at cemeteries following the death of an eight-year-old boy.
Ciaran Williamson died in what his family described as a "tragic accident" involving a falling headstone at a cemetery in Cardonald on Tuesday.
Ms Lamont said public places, like graveyards, must be safe.
Glasgow City Council said owners were responsible for headstone safety unless there was an "imminent risk".
Speaking to BBC Scotland, Ms Lamont, MSP for Glasgow Pollock, said: "You can only imagine, as parents, what it must be like for a child to go out to play and then not come back.
"I understand the Scottish government is currently consulting to bring forward a bill around burials, crematoriums and cemeteries and I think that is an opportunity to look at that."
Inspection regime
A spokesperson for Glasgow City Council said: "It is the responsibility of the owner of the lair. However, if a memorial is considered to pose an imminent risk we deal with it immediately. If not, we contact the lair owner.
"If it's an old lair and no contact is possible, we make it safe."
The spokesperson added: "We are stepping up our inspection regime across the city, however, as there is an ongoing investigation we are not going to go into any more detail at this stage."
Two 10-year-olds were also injured in the incident which Police Scotland said was not being treated as suspicious.