Norovirus bug closes Claymore Hotel in Arrochar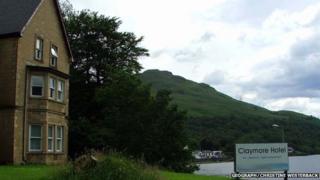 A hotel in Arrochar has had to close for deep cleaning this weekend after an outbreak of norovirus.
The bug struck the Claymore Hotel in the picturesque Argyll and Bute village on Thursday.
Fourteen of the hotel's guests were affected, all of whom were elderly.
The affected guests, who were on a bus tour, have been provided with individual transport home, a spokesman for the tour operator said.
Guests due to arrive at the weekend have been rerouted to other hotels on their tour.
'Mild outbreak'
The hotel said it hopes to reopen on Monday.
Arrochar, which sits on the banks of Loch Long, is a popular stop on bus tours.
Graham Rogers, spokesman for tour operator National Holidays, said no one had been hospitalised during the outbreak.
He added: "This was a mild outbreak of the virus, where a small number of people due to return home on Friday began to feel unwell.
"Arrangements were made for them to stay on until Saturday, before travelling home.
"As a precaution the hotel has been closed for the weekend for a deep clean."
A spokeswoman for Argyll and Bute Council said: "Our environmental health services have worked with hotels to put procedures in place that mean they can take immediate action.
"Carrying out a deep clean is exactly the kind of action recommended and we'll be in further conversation with the hotel."