Inverclyde schools 'unlikely to close', council says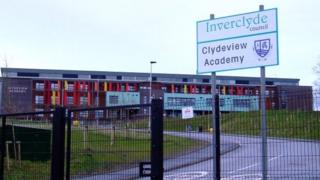 Inverclyde Council has said it is "highly unlikely" that schools will be closed to pupils next week.
Five schools in the region were built by Miller Construction, the firm at the centre of school closures in Edinburgh.
The local authority has pledged to inspect the schools before students return to the classroom on Tuesday.
Seventeen schools were temporarily closed in the capital over safety concerns, leaving 7,000 pupils and their parents in limbo.
A spokesman said there was no indication that schools in Inverclyde were facing issues similar to those in Edinburgh.
The schools which were built by Miller Construction in the region are:
Whinhill Primary
Clydeview Academy
Notre Dame High School
Aileymill Primary School
All Saints Primary School
Inverclyde Council said a survey of Whinhill Primary, which was not a PPP project and is wholly owned by the council, found no issues.
A similar inspection of Clydeview Academy, instructed by the private finance contractor also raised no problems.
Notre Dame High School also had "no safety issues" reported.
The remaining schools, which were all built under the PPP model, will be inspected this week.
A spokesman for the council said: "This work has been planned and arranged with the full co-operation and partnership working of the council, PPP provider, facilities management provider and original contractor.
"The position remains that we expect surveys to be completed while schools are closed for spring break and that they will re-open as normal on Tuesday.
"In the highly unlikely event that this position changes, we will inform parents immediately."