Cleanliness concerns at £100m New Victoria Hospital in Glasgow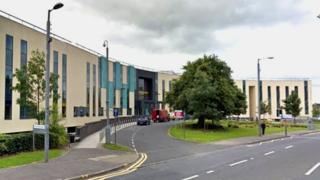 Inspectors have praised cleanliness and infection control procedures at a new hospital in Glasgow but called for improvements at a renal dialysis unit.
A team from the Healthcare Environment Inspectorate (HIE) made unannounced visits to the £100m New Victoria Hospital on 17 and 18 February.
They praised most areas inspected but found issues with cleanliness and some equipment in the dialysis unit.
NHS Greater Glasgow and Clyde (GGC) said it was making improvements.
Jacqui Macrae, head of quality of care for Healthcare Improvement Scotland, said he team had carried out their first inspection of the New Victoria Hospital.
"During the inspection we found we found that the majority of wards and departments were very clean," she said.
"This also included non-clinical areas such as linen stores, sluices and store rooms.
"We found that staff had a good knowledge of standard infection control precautions."
'Positive findings'
She added: "However, we found issues with the standard of cleanliness and state of repair of some of the equipment in the renal dialysis unit and have issued requirements to ensure improvements."
Ms Macrae said the inspection had "resulted in three requirements and one recommendation" for improvements being made to hospital management.
Margaret McGuire, NHS GGC's Nurse Director, said the report had highlighted "a number of positive findings around infection prevention and control" but there was still work to be done.
"We are disappointed that the inspectors found some areas for improvement," she said.
"We recognise there are areas we need to improve and are actively working with our staff to ensure that the requirements from this inspection are fully implemented."
The New Victoria Hospital opened in June 2009 and provides many outpatient clinics for up to 400,000 patients a year.