Mike Ashley drops Dave King 'fit and proper' case against SFA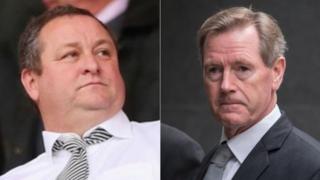 Mike Ashley has dropped a challenge to the Scottish Football Association (SFA) over Dave King's role at Rangers.
The Sports Direct owner had sought to challenge the SFA's decision to class Mr King as a "fit and proper person" before he became chairman of the club.
He dropped the action after his legal team received information about Mr King's finances which the SFA used in their May 2015 deliberations.
A judge will decide later whether Mr Ashley is liable for costs.
Lord Bannatyne is considering legal submissions made by lawyers acting for the SFA and Mr King during proceedings at the Court of Session in Edinburgh on Thursday.
'Vendetta' claim
They argued that the Newcastle United owner and Rangers shareholder was using the legal system to pursue a "vendetta" against Mr King.
Advocate Roddy Dunlop QC for the SFA and Mr King's counsel Kenneth McGuire argued that Mr Ashley's alleged conduct and his decision to drop the proceedings should result in him meeting costs.
The case heard in court was brought by MASH Holdings Limited. The company is the ownership mechanism in which Mike Ashley holds his Rangers shares.
Mr Ashley believed that the SFA should not have allowed Mr King to participate in the day-to-day running of Rangers because of his tax convictions in South Africa.
The businessman admitted to 41 breaches of the South African Income Tax Act and agreed to pay a £43.7m settlement in 2013 following a legal battle there.
On Thursday, Mr Ashley's lawyer Craig Sandison QC told the court that his client had decided to abandon the action after the SFA had provided information concerning Mr King's finances in the last week.
The court heard that this information was used by the SFA to conclude that Mr King was a "fit and proper person".
Mr Sandison told the court that in the light of the information, Mr Ashley no longer wished to pursue the judicial review and he should not be liable for expenses.
He said that Mr Ashley had raised the judicial review because he wanted to act in what he thought was Rangers's best interests.
However, Mr Dunlop told the court that legal precedents meant that people in Mr Ashley's position of abandoning cases in the Court of Session should pay costs.
Lord Bannatyne will issue his decision on whether Mr Ashley should pay legal costs in a written judgement which will be issued in the near future.