Two men sought over ram-raids on shops in Airdrie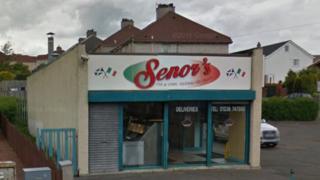 Police are attempting to trace two men who used a stolen car in two ram-raids on shops in Airdrie, North Lanarkshire.
Senor's Fish and Chip Shop on Bellsdyke Road and Burnfoot Convenience Store on Laidon Road were badly damaged between 04:00 and 05:00 on Wednesday.
The men escaped with a three-figure sum of cash and electrical equipment from the chip shop but failed to gain access to the convenience store.
The Renault Megane, stolen earlier in Coatbridge, was found in Laidon Road.
The two suspects are described as both in their late teens or early 20s and of slim build.
Public appeal
One is described as wearing a white tracksuit top with the hood up, jeans and gloves. The other had on a black baseball cap, a green jacket and light-coloured trousers.
Insp Vincent Ferris said: "On checking CCTV, two men were seen reversing the Renault Megane car into the convenience store and running off afterwards.
"They didn't manage to get in, however, it is thought, due to the damage to the shutter and the front of the shop, they did the same at the fish and chip shop a short time earlier.
"On this occasion they did manage to gain entry and made off with the three-figure sum of money and some electrical equipment."
Insp Ferris appealed for help in tracing both men.
"The area around both shops is residential so I have no doubt that someone will have either heard or seen the incidents take place," he said.
"At this time we do not know if the men had access to a second vehicle, so again would appeal to anyone with information about these incidents to contact Airdrie Police Office."