Youths attack driver and smash up car in Dumbarton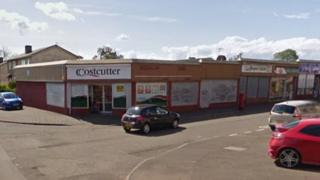 Police are attempting to trace a group of up to 10 teenagers who attacked a man and smashed up his car after he asked them to stop smashing bottles.
The 33-year-old victim and his red Volkswagen car were set upon at the corner of Barwood Hill and Merkins Avenue in Bellsmyre, Dumbarton.
Following the attack, at about 18:50 on Sunday, he was treated in hospital for injuries to his arms, hands and head.
A woman who was in the car at the time was not injured.
Police said that the attack began when one of the youths picked up an advertising display board from outside a shop and threw it at the driver's car.
Jumping on bonnet
After returning the sign to the shop, the driver got back into his car when more youths appeared and threw bricks and other objects at the car, breaking the windows and jumping on the bonnet.
The female passenger of the car got out and stood by the roadside as the driver was attacked in his car by the youths through the broken windows.
The man then got out the car and the youths continued to assault him in the street.
The victim was taken to the Royal Alexandra Hospital in Paisley after the attack ended.
Police said there appeared to be a number of youths involved, possibly up to 10, between the ages of 16 and 18 years old.
One is described as wearing a full white tracksuit and another wearing a black top with a large white logo.
Following the attack, the group made off along Barwood Hill towards Howatshaws Road, Dumbarton.
Det Con Russell Paton said: "This was a particularly brutal attack on an individual who took it upon himself to ask youths to stop smashing bottles at the roadside.
"Both the driver and his car were then subjected to a lengthy assault by a number of the youths, resulting in a number of his car windows and windscreen being smashed and the driver being treated for injuries to his head and arms at hospital.
"I am appealing for anyone who may have seen the assault in the Barwood Hill and Merkins Avenue in Dumbarton to come forward with information."