Struck-off dentist Alan Morrison declared bankrupt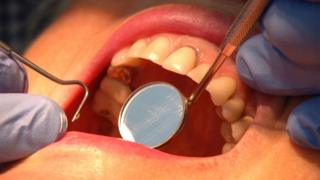 A dentist who put 6,000 patients at risk by using dirty equipment has declared himself bankrupt.
Alan Morrison, who ran surgeries in Ayrshire, is facing a £1m lawsuit from 750 of his former patients.
He sparked a health alert after a dental nurse turned whistleblower revealed that he failed to clean instruments and reused gloves.
Mr Morrison, 53, has declared himself bankrupt with debts of more than £4,000.
Thompsons solicitors, which represent his former patients, said their lawsuit will continue.
The dentist, who ran surgeries in Cumnock and Drongan, was struck off by the General Dental Council earlier this year.
Around 2,250 patients were tested for blood-borne viruses after the surgeries' problems came to light.
Four tested positive for the Hepatitis C infection, though it is not know whether they contracted it from the dental practices.