Driver jailed for killing pensioner crossing Glasgow road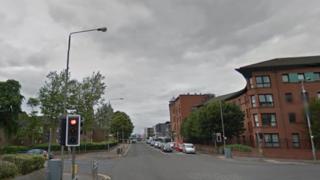 A man who knocked down and killed a 78-year-old pedestrian has been jailed for three years and nine months.
Sergej Rutkovskij ploughed into Robert Taylor on Glasgow's Gallowgate, at its junction with Abercromby Street and Bellgrove Street, on 27 March 2015.
The recently bereaved OAP was crossing the road when Rutkovskij sped off from traffic lights and hit him.
At the High Court in Glasgow, the 28-year-old was jailed after he admitted causing death by dangerous driving.
Family 'devastated'
Jailing him, judge Lady Scott told Rutkovskij, who has a previous conviction for careless driving: "Mr Taylor was clearly visible to all other traffic.
"You accelerated at speed towards Mr Taylor. You should have seen him. You have left his family, especially his brother and sister, devastated. He was described as a good man and a great brother.
"However, I accept you have genuine remorse. You lost your own brother in a road traffic accident. You are of good character and a good worker and I accept you are devastated by what you have done."
Lady Scott also banned Lithuanian-born Rutkovskij, from the city's Parkhead area, from driving for five years.
The court previously heard that Mr Taylor's wife had died the previous month and it was believed that he suffered from dizzy spells brought on by the bereavement.
On the day of the crash, the 78-year-old had injured his ribs in a fall.
Hours before he was killed, his niece Gina Taylor had visited his home on Gallowgate to make him dinner.
Crash investigation
Mr Taylor then had a couple of pints at his local pub before seeing Ms Taylor off.
The court heard that as he walked back home, Mr Taylor was spotted "taking a considerable amount of time" to cross the road.
Around the same time, Rutkovskij was waiting at a red light in his BMW.
According to witnesses, he moved off "very quickly" when the traffic lights changed to green but Mr Taylor was still crossing the road.
The front of the BMW hit Mr Taylor, throwing him onto the bonnet, against the windscreen, over the roof and onto the ground behind.
As other drivers came out of their cars to hep the OAP, Rutkovskij claimed he had not seen him.
Mr Taylor later died in hospital after suffering head and chest injuries.
Crash investigators concluded there had been "a complete failure" by Rutkovskij to see Mr Taylor.