'Limbs in the Loch' killer William Beggs loses compensation claim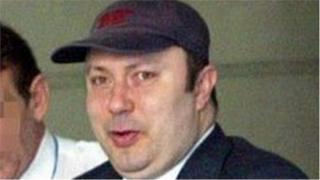 "Limbs in the Loch" murderer William Beggs has failed in a legal bid to win £5,000 compensation from prison authorities who opened his mail.
A judge ruled last year that the 52-year-old's human rights were violated when the Scottish Prison Service (SPS) opened his confidential letters.
In a further ruling, Lady Stacey has rejected Beggs' claim for compensation.
Beggs was jailed for life in 2001 for killing and dismembering 18-year-old Barry Wallace in Kilmarnock in 1999.
During his time in jail, he has pursued a series of legal actions and was previously awarded compensation because his appeal took too long to be heard.
Claim denied
The latest action related to his unsuccessful dispute with the Scottish Information Commissioner, Rosemary Agnew.
Beggs claimed she acted illegally over the handling of a Freedom of Information application he made from prison in 2013.
In March last year, judges at the Court of Session threw out the claim and ruled that Ms Agnew acted correctly.
Beggs' lawyers also pursued a claim at the Court of Session in Edinburgh that the SPS breached their client's human rights because they either opened or delayed delivering his correspondence on various occasions between January 2013 and January 2015.
Beggs was an inmate at HMP Glenochil and HMP Edinburgh between these times.
In a written judgement, Lady Stacey previously ruled that the SPS failed to respect Beggs' rights under article eight of the European Convention on Human Rights, which is supposed to guarantee an individual's "right to respect" for their "private and family life" and their "home and correspondence."
Lady Stacey ruled that the SPS did not follow its own guidelines when staff opened letters addressed to Beggs.
'Apologies made'
Following the ruling, the judge said she would hear any future claims for compensation.
Beggs later sought £5,000 at a judicial review.
In her latest ruling, Lady Stacey said: "I considered carefully whether the fact that the petitioner (Beggs) raised three actions, showing that the system was not reformed after the first or second action, necessitated an award of damages. I have decided that it did not."
"The breaches did not involve the reading of any confidential mail. Apologies were made following complaints made by the petitioner," she said.
Beggs was jailed for life in 2001 after murdering 18-year-old Barry Wallace and dismembering his body in December 1999 at a property in Doon Place, Kilmarnock.
Trial judge Lord Osborne ordered that he serve a minimum of 20 years.