Motorboat rescued from strong currents on Falls of Lora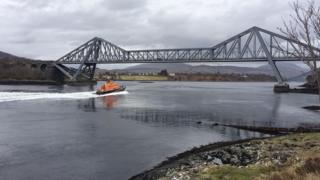 A man has been rescued after his motorboat got caught in strong currents at Connel Bridge near Oban.
The Oban lifeboat was sent to the scene at about 16:55 after Stornoway coastguard reported that a vessel was in "serious trouble".
The man had put down his anchor to avoid hitting rocks on the Falls of Lora at the mouth of Loch Etive.
His boat was towed out of the current to safety. He was taken to hospital for treatment to a hand injury.
The Falls of Lora are a set of overfalls which form white water rapids when a particularly high tide runs out from the loch.