Palacerigg Country Park attractions re-open after rat infestation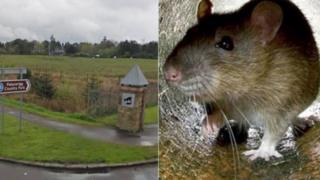 The visitor centre, farm and cafe in Palacerigg Country Park in Cumbernauld are re-opening after being shut last month due to a rat infestation.
North Lanarkshire Council said a phased re-opening began at the weekend, with access restored to the visitor centre and tractor trail.
By Tuesday all facilities, with the exception of the poultry pens, should be available.
It is thought the rats were attracted to animal feed sites around the park.
The council brought in ferrets to help deal with the rats.
Head of environmental assets Ken Forbes said: "We were very disappointed at having to close facilities but public health and animal safety had to come first.
"After taking advice from pest control specialists, we moved our animals to other areas around the park and removed likely sources of food while beginning to trap. At one stage, we brought in ferrets to help deal with the issue.
"The usual method would have been bait, but we had to ensure the safety of young children especially and family pets, as well as wildlife around Palacerigg."
He added: "To help us prevent future difficulties we are asking our visitors to ensure they dispose of their litter responsibly."