Brothers killed man with samurai sword in Kilmarnock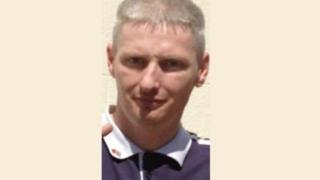 Two brothers have been convicted of killing a man with a samurai sword after a robbery went wrong.
Jason Bryden suffered three severed arteries as he was stabbed six times in the attack in Kilmarnock last year.
James Clark, 37, was found guilty of murder while his brother John, 39, was convicted of the lesser charge of culpable homicide.
Sentence was deferred on the pair at the High Court in Glasgow until next month.
The court heard the brothers, from Kilmarnock, had decided to rob Mr Bryden, 39, of a gold bracelet which they had given to him in exchange for drugs.
Screaming in pain
The pair, who were high on drink and drugs, went to his home after masking their faces with scarves and arming themselves with a knife and martial arts nunchucks.
The sword used in the killing is believed to have belonged to the dead man.
Neighbours said they could see the Clarks attacking Mr Bryden as he sat on a sofa by the window and could hear him screaming.
Prosecutor Richard Goddard told the trial: "This was a sustained, frenzied attack on this man."
Afterwards, the scene of the killing was described as a "bloodbath".
In addition to the stab wounds, Mr Bryden suffered blunt force trauma during the assault on 4 July last year.
He died in Kilmarnock's Crosshouse Hospital three days later.
Accident claim
Both brothers denied the killing.
In evidence, James Clark, who has 38 previous convictions including one of attempted murder, said: "I didn't mean it. It was an accident."
John Clark said he only got involved to help his brother whom he claimed was being attacked by Mr Bryden.
Judge Bill Dunlop told James Clark: "In your case there is only one sentence available which is life imprisonment, but a punishment part will have to be determined."
John Clark, who has 23 previous convictions, was convicted on the grounds of acting in concert with his brother.
Both men are in custody and will be sentenced next month.