Man arrested over 'motiveless attack' in Glasgow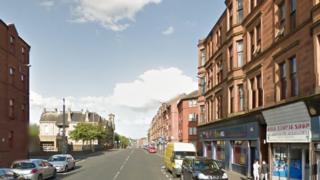 A man has been arrested over a street attack in Glasgow which left another man with head and back injuries.
Police said the "motiveless attack" on the 33-year-old victim happened on Westmuir Street, near Parkhead Cross, at about 19:20 on 13 July.
He suffered lacerations after being approached then assaulted by two men.
Police said that a 30 year-old man had been arrested in connection with the incident. He is due to appear at Glasgow Sheriff Court.