Prisoner given more jail time for killing man in Glasgow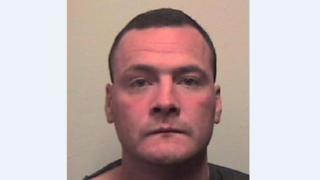 A man who is serving eight-and-a-half years in an English prison for drug offences has been given more jail time for killing a man in Glasgow.
George Trainer, 29, stabbed and battered David Graham at the victim's flat in Maryhill in July last year. The frail 61-year-old died in hospital.
Trainer, who was on early release from jail for serious assault, admitted culpable homicide over the death.
At the High Court in Aberdeen, he was jailed for six years and nine months.
'Prolonged attack'
Judge Lord Burns told Trainer that he had committed a "violent and prolonged" assault on a frail man without provocation.
He told the killer, who is from Robroyston in Glasgow, that he would be monitored for four years after his release to help protect the public.
A previous hearing at the High Court in Glasgow heard that as well as being on early release at the time of the killing, Trainer was also under supervision in connection with another crime.
The court was told that on the night of the attack, Mr Graham had been watching football on TV with friends, including Trainer's stepfather.
Trainer himself then showed up, but Mr Graham wanted him to leave due to his "aggressive" behaviour.
Trainer did leave, but returned when the 61-year-old was alone in the flat.
Prosecutor Iain McSporran said that "for no reason" Trainer ripped the victim's telephone from the wall.
As Mr Graham demanded to know why, Trainer then grabbed the seven-stone man and pushed him around.
He went on to repeatedly stab, kick and punch his victim during a "sustained, prolonged assault".
Flat 'warzone'
Trainer fled the scene and it was the next morning when a friend discovered Mr Graham lying on the floor.
The victim was described as "looking like a car crash victim", unable to talk and his head "all purple".
The court heard the flat resembled "a warzone" with blood everywhere and items smashed.
A paramedic who arrived to treat Mr Graham said he had "too many injuries to count". The victim also appeared to be suffering from hypothermia.
Mr Graham was taken to hospital where he told police: "I was terrified. I physically couldn't fight George off to defend myself as I'm only small."
The victim, who had previously suffered a heart attack and a stroke, went on to suffer pneumonia and died in mid-September.
The court was told that medical opinion was that the "assault and subsequent hospitalisation was a material contributory factor in his death".
Following Mr Graham's death, Trainer fled and was the subject of a police media appeal to trace him.
Detectives later learned he had been held in Manchester in connection with drug offences. Trainer is currently serving his sentence for those offences in the city's Strangeways jail.