Prestwick beach reopens after scare over asbestos material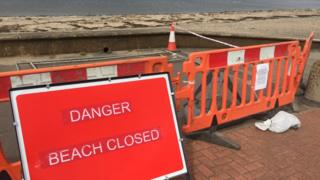 Prestwick beach is being reopened a week after it was closed following the discovery of asbestos-related material.
South Ayrshire Council closed the beach on 29 July and brought in a specialist contractor to clear the area.
The substance is believed to have been washed ashore after being in the water for a considerable time and the risk to health has been deemed "negligible".
The south end of the beach will remain closed over the weekend as inspection and removal operations continue.
Mike Newall, South Ayrshire Council's head of neighbourhood services, said: "When the material was initially identified as containing asbestos, we took swift action to close the beach right away. That was purely a precautionary measure to allow us to investigate further.
"We now have sufficiently robust information from both our technical experts and our public health experts that the risk to the public is negligible and, as such, I'm very pleased we can reopen the main stretch of Prestwick Beach to locals and visitors alike.
"Of course, that doesn't mean our work here is done and our specialist contractors will continue to check the remaining section of the beach over the weekend."
Following the discovery of the material last week, checks were also carried out at Ayr, Barassie, Newton and Troon beaches. These were given the all-clear.
The council said it would be making "monthly inspections" of Prestwick beach for asbestos over the next three months.
Work is continuing to identify where the asbestos material came from and how it washed ashore.
Hazel Henderson, consultant in public health for NHS Ayrshire and Arran, said: "Our risk assessment concluded that it's highly unlikely that users of the beach have been put at risk of serious long-term health effects from this material.
"This type of asbestos is the least harmful to health as it comprises short asbestos fibres that would pass through the body if ingested or inhaled.
"In the event of someone being exposed to the dust, the risk would be extremely low as a result of one-off exposure in an outdoor marine environment."
Ms Henderson added: "On that basis, we wish to reassure members of the public they have not been put at risk merely by using the beach, and there are no concerns about the beach reopening."