Dramatic rescue saves five as boat sinks off Ayrshire coast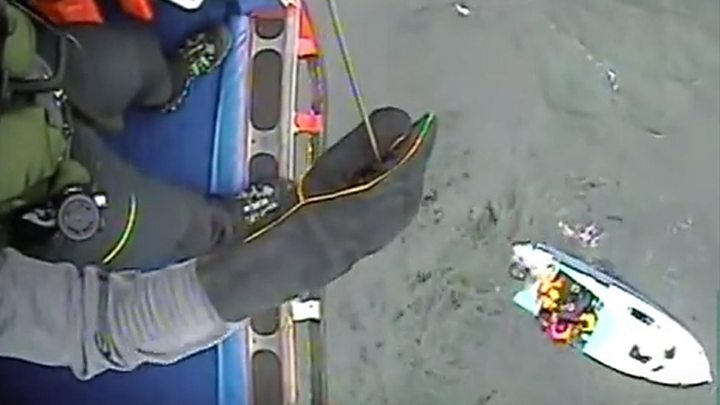 Five men have been rescued from a sinking boat off the Ayrshire coast.
It followed a 999 call to Belfast coastguard at 18:42 on Saturday saying a 16ft boat was sinking in worsening sea conditions, near Ailsa Craig.
Rescuers were able to trace the men's precise location using the signal from one of their mobile phones.
A coastguard helicopter from Prestwick arrived just before the vessel sank and was able to winch two people, who were not wearing life jackets, to safety.
'Rough water'
Also in attendance were life boat crews from Girvan and Campbeltown, who arrived just as the final casualty was winched from the water.
The casualties were checked over by paramedics and despite being wet and cold they appeared to be healthy and in good spirits and did not require further medical attention.
An RNLI statement said: "Although the vessel was lost, five lives were saved in this instance, another few minutes and it could have been a very different outcome."
A coastguard spokeswoman added: "Coastguard coordinators at Belfast received help from the Irish Coastguard who tracked a precise location for the position of the casualty's mobile phone.
"The coastguard helicopter arrived on scene and prioritised winching two people from the vessel who weren't wearing life jackets. At this point the vessel sank in rough water and the three other people were rescued from the water and winched into the helicopter."