City of Glasgow opens new campus in centre of city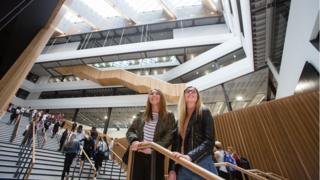 A new college campus in the centre of Glasgow has opened its doors to students for the first time.
The huge City of Glasgow College building in Cathedral Street will have just one lecture theatre.
But its state-of-the-art facilities include television and radio studios, an aircraft training cabin and 16 professional kitchens.
College principal Paul Little said the city campus was a "truly outstanding building."
He said its "open and inspiring" teaching environment would transform the experience of college students.
"Of the 800 or so learning spaces, only one is a lecture theatre, such is the changing nature of higher and further education and one we are embracing," he added.
The college also has design and photography studios as well as an industrial-sized construction, craft and built environment area.
A fine dining restaurant and market, housing a butchers, bakers and fishmongers, will be open to the public.
Together with its riverside campus, the "super-college" is expected to accommodate up to 40,000 students and 1,200 staff a year.
Mr Little said: "Along with our riverside maritime campus, our super college represents a multi-million pound investment and is also the single largest college development in the UK.
"It has been meticulously designed to offer superb opportunities to our students and to meet and adapt to the changing needs of the six million people we expect to attend this college over its lifetime.
"Our next generation super campus plays a crucial part in delivering City of Glasgow College's educational vision and inspiring ambition to shape a new era of tertiary education.
"Scotland now has a world-class technical and professional education college to sit alongside its world-class universities."