Prize draw for year free of council tax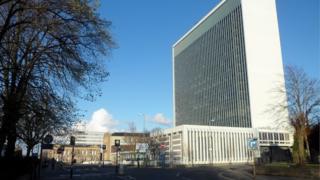 Residents have been offered the chance to win a year free from council tax in a local authority prize draw.
South Lanarkshire Council tweeted details of the competition for those who signed up to pay for council tax by direct debit by 1 April.
The authority said local residents who already paid using direct debit would be automatically entered into the draw.
Council tax in the area ranges from £611.67 for Band A with disabled relief to £2,697.45 for Band H.
Patrick Murphy, of South Lanarkshire Council, said the local authority had run the competition for the past 12 years.
"As with most organisations who collect recurring bills the council encourages as many people as possible to pay by direct debit," he said.
"As well as being by far the most effective way for recurring bills to be collected it also provides a safeguard for residents in both planning their household budget and in preventing them getting into financial difficult as it assists in ensuring payments will not be missed."
About 57% of residents in South Lanarkshire currently pay their council tax by direct debit.