Paddle steamer Waverley cruises to resume after pier crash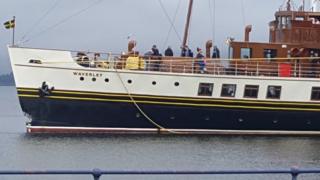 The world's last sea-going paddle steamer is to go back into service two weeks after colliding with a pier on the Clyde.
The Waverley crashed at Rothesay last Friday, causing damage to the bow of the ship.
Repair work is now expected to be completed in time to allow it to resume sailings from Friday 8 September.
The first sailing from Weymouth in Dorset will see it navigating around the Isle of Wight.
The accident took place during a regular sailing with passengers. No-one was injured.
Refunds offered
Crew and officers assessed the damage to the bow and the day-trippers were returned home by regular ferry.
The steam ship, which was launched in 1946, is operated by a charity, the Waverley Steam Navigation Company.
The coming week's cruises in the Bristol Channel have been cancelled while the ship is in dry dock.
The operator has offered a full refund to anyone who has already bought tickets.
---
The Waverley - facts and figures
Built by A. & J. Inglis of Glasgow and launched in October 1946.
Entered service with the London and North Eastern Railway in June 1947, working LNER's Firth of Clyde steamer route from Craigendoran Pier, near Helensburgh, to Arrochar.
Powered by a three-crank diagonal triple-expansion marine steam engine built by Rankin & Blackmore in Greenock.
Now painted in original LNER 1947 livery of red, white and black funnels, traditional brown-grained (or "scumbled") superstructure and black paddle-wheel boxes.
July 1977 - badly damaged when she struck rocks near Dunoon. The heavier than normal post-war construction which made provision for possible future military use as a minesweeper may have helped her stay together while she was refloated.
June 2009 - struck the breakwater at Dunoon with 700 passengers on board, 12 of whom suffered minor injuries.
Since being sold to the Paddle Steamer Preservation Society, she has carried more than five million passengers.