Man faces life sentence for fatal stabbing in Glasgow's Possilpark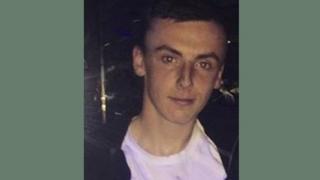 A man is facing life in jail for the "cold-blooded" murder of a man on a Glasgow street.
Robert Letham, 32, was convicted of stabbing 20-year-old Steven Russell to death in Possilpark.
The attack took place on 10 February, following an argument about Letham's mother earlier that day.
Jury members at the High Court in Glasgow watched CCTV footage of the murder, which showed Letham swinging a 10-inch blade at Mr Russell.
Letham told the court that Mr Russell had been "threatening" during their phone conversation earlier in the day and had "lashed out" in fear.
It emerged during the trial that Letham has a history of violent crime, including previous knife attacks.
He fled to Somerset after the attack, before being arrested in late February.
Judge Lady Rae told Letham: "The Crown described this as a pre-meditated, cold-blooded murder and I endorse those words.
"You have a terrible record and the jury saw your behaviour on CCTV, as did I."
The case was adjourned until Tuesday while the judge considers the minimum number of years Letham should serve in jail.
An eye-witness and friend of the victim, Jordan Smith, had told how Mr Russell "ran for about 10 seconds then put both his hands by his side and fell down," recalling that there was "lots of blood".
Letham was also found guilty of assault, having a knife and attempting to defeat the ends of justice.
Laura Graham, 28, was also charged with attempting to defeat the ends of justice in connection with the case, but the allegations were later dropped.