Can the Buddies punch above their weight?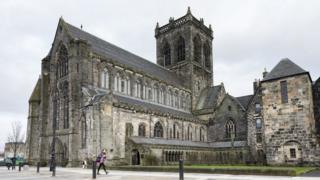 BBC Scotland correspondent Kenneth Macdonald weighs up the chances of his hometown scooping the coveted UK City of Culture crown.
Isn't this great? It's half past six in the morning, it's raining and I'm in Paisley.
No, really. It is great. Because this is day one of the BBC's Cultural Grand Tour.
The big idea is to visit each of the finalists for the title of UK City of Culture 2021. And if it's Monday this must be Paisley.
Paisley is the farthest north of the contenders so it gets to go first.
The cavalcade of outside broadcast vehicles will be moving on to Sunderland, Stoke-on-Trent, Coventry and Swansea as the week unfolds. But this is our day in the spotlight before the judges from the Department of Culture, Media and Sport (DCMS) move in.
So what's the Paisley 2021 bid all about? Well, apart from culture obviously. I think it's about confidence. Specifically self confidence.
I am a Buddie. That's why I'm here - to explain to listeners in Leeds, Coventry and Swansea what makes us, albeit unlikely, finalists.
Unlikely because we're the smallest community ever to have got this far. And - whisper it - we're not a city. Happily this doesn't bar us from the City of Culture contest as it's open to large towns and urban areas too. Phew.
I also find myself having to explain to the rest of the world where Paisley is. I'm used to that though, having grown up in the shadow of That There Big Glasgow.
Like the other four finalists, we are a post-industrial community. I can wander round my home town and point to where we used to make things: thread, marmalade, cars (the latter if you bend the boundaries a little to include Linwood). A great past but you can't eat history.
The present is based largely on public services: local government, health, education.
The future? That's where the bid comes in.
Paisley's self confidence needs a wee boost and the Paisley 2021 bid aims to provide that. In fact, it seems to be working already.
There's a palpable buzz about the bid. Yes, we can point to the stars we have produced- David Tennant, Paolo Nutini, Gerry Rafferty. Naturally, I lay this on thick with our southern listeners, although time constraints mean I don't have room for Cockles Wilson. (Look him up or ask your grandpa.)
But Paisley 2021 is sinking its roots deeper, emphasising community efforts like the PACE youth theatre company. Thousands of young people have gained confidence by taking part in its productions. A certain young Master Nutini learned his stagecraft there.
The Spree festival is on right now with a mouth-watering selection of artists in a Spiegeltent in County Square.
The University of the West of Scotland (it used to be the University of Paisley but it growed) offers Scotland's only Masters in songwriting.
Outside the bus, beside the Cenotaph, Buddy Beats are giving us a percussion recital. They are a group formed by people with mental health issues to prove that no one need miss their dose of culture, not just as consumers but as participants.
Across the street in Dunn Square the statues of the Coats cotton barons have been yarn-bombed. One of them is sporting a St Mirren scarf, the other something that looks more like a skirt than a kilt. In Paisley, culture is all around, all the time.
Will it be enough to impress the DCMS? If past winners are any guide, they're looking for places that are looking for a leg up. In 2013 it was Derry/Londonderry, this year it's Hull.
Stroke City got things off to an impressive start but it's been Hull that has really raised eyebrows, not least in how it's increased its citizens' pride in living there. The benefits to the local economy have been enormous - and it's not over yet.
Paisley could do with a piece of that action.
One in five chance
Sure, we have a reputation for being a little rough and ready at times. Not for nothing is a hammer known as a Paisley screwdriver.
But it's better looked at as an ability to punch above our weight. A bit like St Mirren, who play at the Paisley 2021 Stadium and who - at the time of writing - sit three points clear at the top of the Scottish Championship.
Ultimately, Paisley has just a one in five chance of winning the City of Culture title. But that's the same as the other four.
There appears to be a growing feeling that Paisley might just pull it off.
And even if we don't win the title - and miss out on the financial benefits - there's a sense that the bid has made Buddies more aware of their identity, their community, their culture.
In the long run, that could be worth far more.