Sex attacker jailed after confessing to crime on camera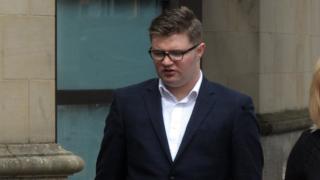 A sex attacker who was caught on camera confessing by friends of his victim has been jailed for two years.
Aaron Herschell, 20, was confronted by the group at a house in Cupar, Fife, where he admitted sexually assaulting a teenager he met on a dating website.
The angry crowd drove Herschell to a police station where he detailed sex attacks on the 19-year-old.
He also confessed to raping an 18-year-old he met on the same website but was cleared of this charge by a jury.
During his trial, he denied both allegations and claimed he had consensual sexual relationships with the women.
And he claimed he lied during his confession videos because he was "scared".
But a jury convicted Herschell of the attempted rape of the 19-year old in Arbroath, Angus, and returned a not proven verdict for the alleged rape in Plains, North Lanarkshire.
Dating website
The High Court in Glasgow heard from Herschell's victim who entered into a relationship with him in April last year after they met on MeetMe.
Herschell travelled through to see the teenager from his family home in Livingston, West Lothian.
She told the court: "I had not long had a break up, so I was trying to make myself happy again."
The jury heard the pair soon began a sexual relationship.
But the victim said she became concerned when Herschell tried to blindfold her during a visit to his home.
She said: "He wanted to use a scarf, but I did not feel comfortable and I wanted to take it off."
It did not deter Herschell who went on to try to rape the teenager during another stay at her house in July last year.
The victim said: "I was in bed on my phone and he climbed on top of me.
"I kept saying, 'I don't like it'.
"I was telling him, 'no'."
Break-up
The victim soon split from her attacker, insisting she could not be with him any more and revealed her ordeal to her mother.
After the break-up, the teenager heard Herschell was dating another girl - who he met on the same website - and she contacted her to "warn her".
In August last year, the second girl said he subjected her to a terrifying sex attack in a park in Plains, North Lanarkshire.
The victim told the jury she kept saying "no" but alleged Herschell ignored her pleas and raped her.
The court heard the attacker's past caught up with him when he was invited to a house in Cupar which belonged to a friend of the first girl.
Herschell was met by the teenager and three others and was recorded making confessions about the sex attack and the alleged rape.
His admission was captured on mobile phone before he was driven to a police station.
The jury heard he then gave officers a detailed account of what he had subjected the girls to.
In the witness box, Herschell denied any sex attacks and claimed he and his family were threatened.
He also said he was coached what to say to police.
Herschell told the jury: "I admitted to stuff I didn't do to keep my family safe".