Power workers attacked with fireworks launched from van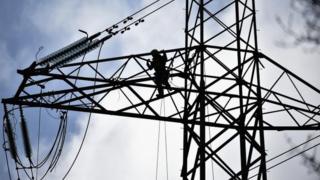 Two engineers were attacked with fireworks launched from a passing van as they tried to repair a fault on the electricity network.
ScottishPower said the men were targeted as they worked on a substation in Greenock, Inverclyde.
Firefighters were called to ensure the rockets were safe and Police Scotland have launched an investigation.
Graham Campbell, district manager for the area, said the attack on his team could have proved fatal.
He said: "No-one should face the dangers of lit fireworks when carrying out their daily duties, never mind when attempting to repair the electricity network in our communities.
"Imagine if one of these explosives landed in our excavated site or hit a live power cable.
"The consequences for our two engineers or those nearby just don't bear thinking about."
Lucky escape
The engineers from the firm's distribution arm, SP Energy Networks, were working on an underground fault at a substation in Prospecthill Court when they were attacked at about 18:00 on Sunday.
The men escaped injury as one rocket landed under their digger while the other bounced clear of the hole they had excavated.
The Scottish Fire & Rescue Service ensured the fireworks were safe.
As a result of the attack, work to reconnect power to a small number of homes was delayed for 24 hours.
Mr Campbell urged anyone with information about the incident to come forward.
He added: "Given the time of day this incident happened, there could also have been children playing nearby.
"It's staggering anyone could risk the lives of others in this way.
"We are providing our full support to the police, but we would also encourage anyone who has any information on those responsible to come forward."
'Mindless act'
Scottish Fire and Rescue Service group manager Mark Gallacher said: "This mindless act really does defy belief.
"It was irresponsible and reckless and had the potential to threaten the safety of the surrounding community.
"The people responsible are very lucky that there was no fire or injury to either themselves or the engineers.
"Attending incidents like this also delays our attendance at more serious incidents where lives could be at stake and the people responsible should take that in and think about it very seriously."
Police Scotland confirmed inquiries into the incident were ongoing.
A force spokeswoman said: "Fireworks in the wrong hands can be extremely dangerous.
"Throwing lit fireworks is risky and reckless and puts people's lives at risk.
"We want to make it clear to everyone that this type of behaviour will not be tolerated."