Sir Alex praises Glasgow Caledonian's New York campus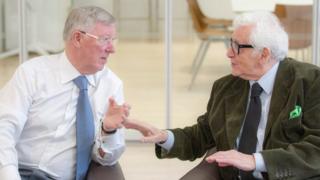 Sir Alex Ferguson has visited Glasgow Caledonian University's New York campus to mark its inaugural academic year.
The former Manchester United manager was joined by photographer Harry Benson at a leadership event in SoHo.
In June, the university's postgraduate college became the first international higher education institution to win authority to award degrees in New York.
Students can now enrol for Masters courses in fashion, risk management and finance.
Sir Alex, who formerly managed Aberdeen and played for Rangers, said: "I am a committed supporter of Glasgow Caledonian, a vibrant university which does important research and changes the course of many young people's lives.
"It is a huge pleasure to see the university take a step forward with the launch of Glasgow Caledonian New York College."
Inspired by youth
Sir Alex, who is an honorary graduate of the university, spoke on the theme of leadership in conversation with philanthropist and venture capitalist Sir Michael Moritz.
Asked why he supported the university, Sir Alex, who is from Govan, said: "When I came for my honorary degree I was taken to a class of 11-year-olds on campus who were being told not to be afraid of universities.
"Youth has always been important to me.
"I love to see young people develop and how they develop as human beings is as important as how they develop as footballers."
Sir Alex managed Manchester United for 26 years and won 38 major trophies.
His haul includes 13 Premier League titles, two Champions Leagues, five FA Cups and four League Cups.
Sir Alex also hosted a lunchtime leadership event which was attended by Glasgow-born photographer Harry Benson, whose career was recognised with an honorary doctorate from the university earlier this year.
In 2015, Sir Alex committed £0,5m to the university to enable talented students to embark on life-changing overseas study trips regardless of background.
University Principal Professor Pamela Gillies said: "In this great city of New York we are delighted to be able to offer programmes in fashion, risk management and finance which merge business imperatives with sustainability and ethical values."
International projects
In July the the GCU campus was given permission to award degrees by the New York State Education Department, making it the first foreign institution in the state to secure this status.
It has previously been reported that Glasgow Caledonian spent £5.6m on the New York project.
When First Minister Nicola Sturgeon visited in June 2015, she described the campus as an "absolutely fantastic development" and praised the "foresight" of university leaders.
Glasgow Caledonian has invested in a number of international projects.
It already runs a college of engineering in Oman and a college of nursing in Bangladesh in partnership with others.
It has a new campus in London as well as New York and has been invited to teach degree courses in Mauritius.