Car thief guilty of trying to kill man by reversing at him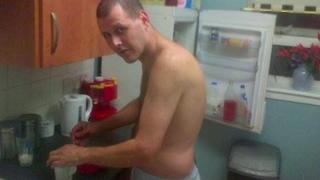 A car thief has been convicted of trying to kill a man who tried to stop his vehicle being stolen.
Steven Payne reversed at Andrew O'Donnell during the incident in April this year.
Mr O'Donnell had earlier clung on to his Volkswagen Polo as Payne took it from outside his home in Paisley, Renfrewshire.
The 26-year-old victim said he he feared for his life as Payne hurtled towards him as he lay stricken.
Mr O'Donnell told jurors: "If I had not jumped onto the pavement, I would have been under the car."
Payne had denied attempted murder - insisting he had only gone out to steal that night.
But he was convicted of the charge following a trial at the High Court in Glasgow.
The 37-year-old will be sentenced in the New Year.
The crime occurred outside the home Mr O'Donnell shared with his police officer girlfriend.
He had been sleeping on the couch when he was awoken by "two figures in the living room".
Clung on
One was Payne who was joined by his then partner.
Payne then raced out the door and jumped into the couple's Volkswagen.
Mr O'Donnell clung on to his car as it sped off despite wearing no shoes.
He said: "I had to let go because I did not feel safe. I thought there was a chance I may end up in a worse state.
"I thought I could go under the car because I could not control my feet as I had been dragged along."
Mr O'Donnell said the driver carried on, but then suddenly stopped.
The man recalled the car's engine being "really loud" as it reversed back.
He said: "I jumped onto the pavement as I was scared for my life."
The witness said the car reversed back a total of three times.
Mr O'Donnell told jurors if he had not moved the final time, he "would have been under the car".
He later needed hospital treatment for a series of grazes and blisters as a result of the incident.
Payne, also of Paisley, told jurors he had been "out to steal" that night.
His partner had taken car keys and a phone from Mr O'Donnell's home before the pair returned to see if they "could get any cash".
It emerged after the verdict Payne has a long criminal record including a conviction for assault and robbery.
Judge Lord Matthews deferred sentencing for reports until January.