Chennai Six: Partner's joy at 'getting family back together'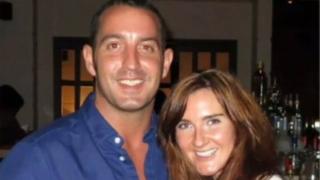 The fiancee of a Scot freed on appeal after spending more than four years in prison in India has told BBC Scotland his release is a "dream come true".
Billy Irving, from Connel, Argyll, was one of the so-called Chennai Six.
The six men have been held on weapons charges since 2013 after being arrested while working as guards on a ship to combat piracy in the Indian Ocean.
Mr Irving missed his son's birth, and his partner Yvonne MacHugh said they could now finally be a family.
Speaking on the BBC's Victoria Derbyshire programme just minutes after learning the men had won their appeal, Ms MacHugh said: "I just feel sheer relief - finally we're getting our family back together.
"Finally all the men are going to be home with their families. They've been acquitted of all charges, so they have done no wrongdoing and finally we've proven that."
The six Britons were arrested on board a ship owned by an American company which offered armed protection services to vessels sailing through an area known as "pirates' alley" between the Indian Ocean and the Red Sea.
Customs officials and police found 35 guns, including semi-automatic weapons, and almost 6,000 rounds of ammunition on board the MV Seaman Guard Ohio.
Indian authorities said the weapons and ammunition had not been properly declared.
The men always denied the charges, which were initially quashed but later reinstated. They were sentenced to five years in 2016.
The former soldiers appealed, and a judge has just ruled that they be acquitted.
The judge ruled that all charges against the men - and 29 others arrested with them - be dropped with immediate effect, and the fines they were ordered to pay be refunded.
However, it is not yet known when they will be able to return home, as the authorities could appeal against the decision.
The men's families have long campaigned for their release.
'Home for Christmas'
Ms MacHugh told BBC Scotland's John Beattie programme that she had "expected the worst" ahead of this latest ruling.
"To finally have the news that they are innocent and that they'll be free is just a dream come true. It's all I've ever wanted," she said.
Ms MacHugh said the last four and a half years had been "hellish" for all the men's families and friends.
"It's been so surreal, the life that I have lived for the last four years - every day just fighting this campaign to free Billy," she added.
"I just can't believe that we don't need to fight anymore.
"We can relax, we can enjoy life, we can get to know each other again and Billy can get to know his son. We can just be a family, finally."
She said she had visited Mr Irving in prison in India last week and although he was "a bit bedraggled looking" he was "still as handsome as ever".
She said her number one priority now was for them to get married and get their son William christened.
Ms MacHugh said she hoped measures would now be put in place to get her partner back to Scotland as soon as possible.
Breaking down in tears she told John Beattie: "It's looking likely that we will have Billy home for Christmas."