'Caged' Shawlands Christmas tree granted freedom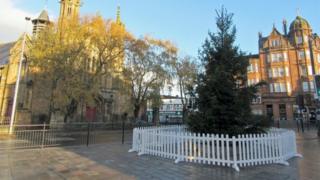 A Christmas tree which was controversially "caged" for its own protection last year has been set free for Christmas 2017.
Metal barriers erected round the Shawlands tree in Glasgow drew vocal criticism from many local residents.
The tree has returned this year with a more modest white picket fence and has been moved from last year's location on a traffic island to a nearby pavement.
The move has been welcomed by one of the people who had called for change.
Former chairman - and now associate member - of Shawlands and Strathbungo Community Council Gary Cushway said: "The (Glasgow City) council contacted the community council in September to ask what the community wanted.
"They have listened to last year and realised they needed to do something different.
"This year they have a nice little white picket fence round it. The tree has been freed."
A social media account, set up in the tree's name, purports to give its thoughts.
On Sunday it tweeted: "Good morning Shawlands. Nice to see you again."
Later, it added: "My fence may have changed this year, but it seems the weather hasn't. Brrr..."
Thursday will see lights on the tree being turned on.
Last year, unofficial efforts were made to improve the appearance of the metal barriers, including the addition of tinsel and decorations.
The @shawlandstree twitter account appeared, and First Minister Nicola Sturgeon was among those tweeting about the issue.