Corporal denies role in forfeit game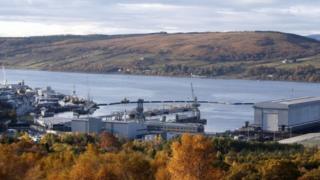 A Royal Marines corporal has told a court martial he was accused of ill-treating a junior because he "set high standards" for his troops.
Cpl Danny Foster said he was not involved in setting degrading punishments for marines guarding the Faslane naval base on the Clyde.
He denies two charges of ill treating a subordinate while his co-accused Cpl Philip Beer denies a single charge.
The trial, at Portsmouth Naval Base, continues.
The court has heard that members of 5 Troop 43 Commando would hold a daily gathering in the television room called "Family Time" during which forfeits would be handed out for small errors or mistakes while on duty.
The alleged incidents took place while the troop was tasked with guarding Faslane Naval Base, home of the fleet's nuclear submarines, as well as the Royal Naval Armaments Depot at Coulport, where the nuclear weapons are stored.
One marine has told the hearing he was told to carry out a sex act as a punishment by Cpl Foster.
Cpl Foster denied any involvement in the incident and said the conversation did not take place
He also denied a claim that he made a marine choose a particular forfeit during another game based on the television show Deal Or No Deal. The forfeit was said to involve being whipped by hanging upside down naked.
Foster said that he was not present when the forfeits were carried out at the end of Family Time.
He denied that such punishments were a sign of Family Time "getting out of hand"
"If the lads were collectively happy to do that and had no issues with it then it was their decision," he said.
He said that participation in Family Time was not compulsory and added: "Everybody attended Family Time because they thought it was a laugh and a good thing. It was voluntary."
When asked why he thought he had been accused by the alleged victim, he said: "As a corporal I tried to be as professional as possible, the standards I set myself are quite high because I have watched people lose their lives for not hitting the standards they should be.
"I try to push those standards across to the lads to be the best they can be, I know I am robust but it's because I want them to be the best they can be."