Residents evacuated after fire at Indian restaurant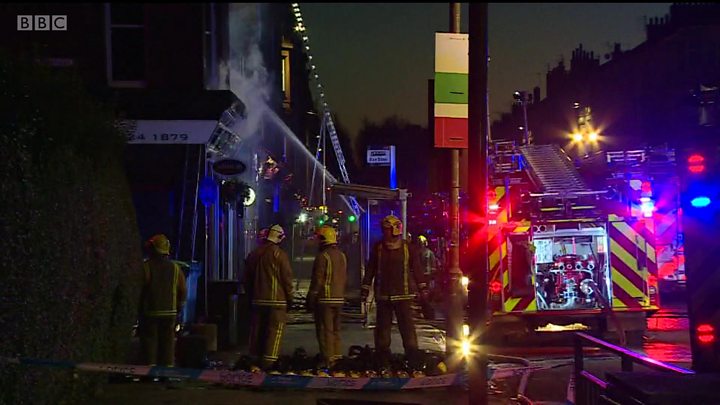 A number of residents have been evacuated after a fire broke out in an Indian restaurant in Glasgow.
The alarm was raised at the Kebabish Grill on Victoria Road, Govanhill at 14:45.
It is understood no one living in the four-storey tenement building has been injured but road closures are in place.
The Scottish Fire and Rescue Service confirmed 10 fire appliances and two aerial appliance were at the scene, near the junction with Kingarth Street.
First Minister Nicola Sturgeon, who is the local MSP, tweeted: "My thoughts with those affected by the fire at Kebabish in my constituency. @GovanhillBaths is open for anyone needing immediate shelter. Anyone who needs my assistance should get in touch in the normal ways."
Former Glasgow City Councillor Austin Sheridan was on the scene shortly after the fire broke out.
He tweeted: "Bad Fire at Kebabish on Victoria Road in Govanhill. Staff had to break down close door next to it to warn residents of fire."
He later added: "Emergency services must be commended on their response to the fire at Kebsbish on Victoria Road. Just by chance a CID police officer was passing by and assisted Kebabish staff with alerting residents in the building next to the shop of fire before the fire service arrived."
Mr Sheridan also said the blaze had spread to the flats above the restaurant and was "worse than I first thought".
A Scottish Fire and Rescue Service (SFRS) spokesman said: "The SFRS is currently in attendance at a large fire that has taken hold within a restaurant and is now affecting flats within an above four storey tenement building on Victoria Road, Glasgow."