Kilmarnock murder trial told woman's clothes melted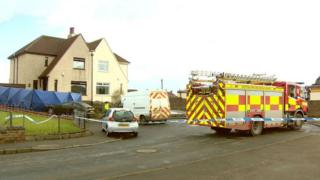 An elderly woman whose son is accused of her murder was so badly burnt firefighters could not tell if she was a man or a woman, a court has heard.
William Kelly, 41, denies murdering Cathy Kelly who was discovered with extensive injuries and "melted" clothing in her Kilmarnock home.
A firefighter described how he found the 71-year-old lying face down in a smoke-filled room.
William Milroy told the jury she was unresponsive and very badly burnt.
Mr Milroy said he and his colleague Ross Campbell found the elderly woman in living room after the fire on 11 February.
He said: "I reached out and gave her a little shake and said 'I'm a firefighter,' and got no reaction.
"I could see the back of her head was badly singed and her back was badly burned and her clothing was a bit melted.
"She was badly burned mostly her legs and back."
The court heard that the firefighters carried Ms Kelly out of the back of the house and carried out first aid on her.
Watch manager Gordon Cairns told the High Court in Glasgow he performed CPR on the pensioner.
He was asked by prosecutor Ashley Edwards QC if he could determine her gender.
Mr Cairns replied: "No, her hair was missing and the clothes were kind of burnt, fragile.
"When I went to touch the clothes they just disintegrated that's what I mean by fragile."
Her son William Kelly is accused of punching and kicking the pensioner and then pouring petrol over her and setting her on fire.
The trial before judge Lady Stacey continues.