Police Taser expansion will not lead to routine arming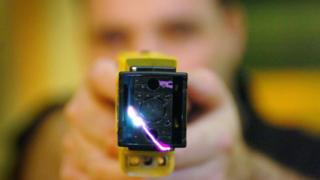 An increase in Police Scotland's Taser capability will not pave the way for the routine arming of officers.
Last week the force confirmed 500 officers will be trained to use the stun guns after a sharp rise in the number of assaults.
But Deputy Chief Constable Johnny Gwynne told the Scottish Police Authority (SPA) the move would not have wider significance.
So far this year, 969 officers have been assaulted.
This is an increase of nearly 27% on the 764 recorded in 2016.
Safest option
Mr Gwynne told the Dundee meeting the proposals were aimed at improving the safety of officers and the public.
But he also said the weapons reduced the risk to offenders.
He said: "The good thing about the Taser is that you don't have to deploy a baton.
"It is only about people that pose the biggest risk to officers and the public.
"There is less of a fracas and less physical contact.
"It is safer for the suspect."
Mr Gwynne was also asked if the Taser move would pave the way for officers to be issued with guns as part of their standard kit.
ARV deployment
He said: "We as a command team are not keen for the routine arming of Scottish police officers.
"We need to be a police service that is able to access firearms but we have no desire to see officers carrying a self-loading pistol on their hip."
Last week the force also confirmed it was extending the role of Armed Response Vehicle (ARV) officers to allow them to be deployed to more non-firearms calls.
Mr Gwynne said the newly-trained officers would be based in all 13 local policing divisions.
The proposal follows an extensive programme of engagement with the SPA, politicians and other key stakeholders.
The officers, who will start training in May and be operational by August, will be deployed in urban and rural areas.
In June last year the force announced an additional 124 firearms officers, including 99 dedicated to ARVs.
David Hamilton, vice chairman of the Scottish Police Federation, praised the force for listening to the concerns expressed in a recent survey.
He said: "Whilst not the panacea to all the threats we face, evidence from across the world shows Taser reduces such assaults and injuries considerably, and leads to safer outcomes for police officers, the public and offenders."