Jobs at risk at engineering firm Doosan Babcock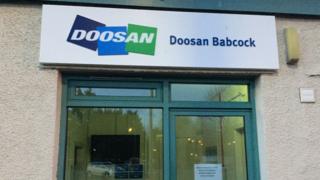 An estimated 60 jobs could be lost at an engineering firm in Scotland as part of a reorganisation programme.
Doosan Babcock said 120 jobs across the UK were at risk as a result of "extremely challenging market conditions."
It is believed that the majority of Scottish jobs under threat are at the company's site at Renfrew.
The other job losses are understood to be spread between its sites in England, including Crawley, West Sussex.
The company currently employs about 5,000 people.
'Challenging market conditions'
Its chief executive Andrew Colquhoun, said: "Doosan Babcock has shown strong underlying performance in the last 12 months but continues to face extremely challenging market conditions.
"To meet these challenges, ensure a sustainable future for our employees and add value to our customers, we are undertaking this review of our organisational structure.
"Unfortunately, this will result in some job losses and this is particularly difficult for a company which places great importance on our staff."
The firm also said that previous reports of 350 Scottish workers being issued redundancy notices were "misleading".
It said that these related to short-term contracts for a forthcoming project at Grangemouth in April that had not yet been recruited.
A Doosan Babcock spokesman said: "This arrangement is typical of our industry and all parties - the company, the short-term workers and the trade unions - are fully aware of these arrangements."
The spokesman said that following the project the company would "assess its workload" across its UK portfolio to try to source opportunities for workers to move to other projects, where available.