Wife told how 'slave' husband was driven away from home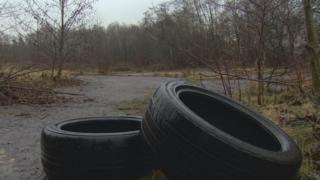 A woman has claimed her then husband was taken from their home by a man he worked for before she was told: "You are divorced now".
Christina Anderson was married to James Keith, who alleges he suffered at the hands of members of the McPhee family.
A trial has heard how the mother-of-three wed Mr Keith just four weeks after they met in 1999.
Four men deny a total of 30 charges - which span between 1992 and 2016 - including slavery and violence.
Miss Anderson, 49, told the High Court in Glasgow James McPhee later turned up at their door.
He told her to say "cheerio" to her husband, she said.
'White with fear'
She was giving evidence at the trial of James McPhee, 45, Robert McPhee, 65, Steven McPhee, 37, and John Miller, 38.
Miss Anderson first met Mr Keith when he and her brother John Anderson appeared unannounced at her home in June 1999.
Both men worked for members of the McPhee family.
They earlier alleged in court they were beaten, held and at times fled from them.
The court heard in late 1999 James McPhee turned up outside the newly married couple's home in Paisley, Renfrewshire shouting: "Keith, Keith".
Ms Anderson recalled: "I have never seen him (her husband) go so white in his life...white with fear."
It was claimed Mr McPhee then came into the house.
The witness went on: "He told James Keith to move, that he was going with them and to get ready.
"He (Mr McPhee) was kind of annoyed.
"James Keith told him he was happy, settled and did not want to go."
Ms Anderson told the accused Mr Keith was her husband.
She added: "He said from now on I was divorced."
Tracked to London
Ms Anderson recalled Mr Keith being taken away in a van.
She said she next saw her then husband when he later ran away and they left for Newcastle.
But they were tracked and ended up on a caravan site in Bathgate, West Lothian.
The couple - who are now divorced - later stayed in London but it is claimed James McPhee located them a second time.
Her final contact with the McPhees was when she left a site in Larkhall, Lanarkshire, with her children.
The trial, before Lady Stacey, continues.