Delivery company link in Glasgow assault cases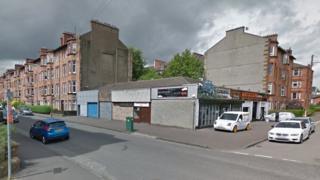 Detectives investigating two assaults in Glasgow have said both victims worked for the same delivery firm.
They are linking the two incidents and have described them as "targeted attacks".
The first assault took place near Strathclyde University on 21 December. The second was in the Battlefield area on 2 January.
An officer working on the case said those responsible had no concern for vulnerable members of the community.
The attack in December left a 73-year-old man with a serious facial injury.
He had been sitting in his yellow Skoda Fabia using his mobile phone when two men pulled open the car door and assaulted him.
Burning car
In the latest incident, about four men armed with knives attacked a 37-year-old man who had been sitting in a white van on Lochleven Road, near its junction with Dundrennan Road.
The men involved made off in a 17-plate BMW 3 series which was found on fire at Linn Park Golf Club a short time later.
Det Sgt Craig Warren said: "Although the investigation is continuing into both of these incidents, we believe that they were targeted attacks and we are linking them.
"Both men work as delivery drivers for the same company. In respect of the incident on 21st December 2017, these men carried out a disgusting and cowardly attack on a defenceless elderly man who was simply going about his business.
"These people clearly have no concern for vulnerable members of the community and must be caught. I believe people associated with the individuals responsible will know what they have done and I would appeal to them to do the right thing and come forward."