Hooded robber threatened takeaway worker in Johnstone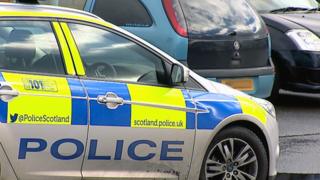 A hooded robber put a Chinese takeaway worker through a "terrifying ordeal" in Johnstone, police have said.
The man walked into Louise's Kitchen in Greenend Avenue and threatened a female staff member with a weapon at about 21:00 on Sunday.
He demanded cash from her before running off towards Ryefield Avenue.
Det Con Derek Johnston said: "Thankfully the female member of staff was not hurt during the incident but it was still a terrifying ordeal for her."
The man is described as 5ft 10in tall and was wearing dark-coloured clothing with the hood pulled up to cover his face.