Police helicopter spots suspect hiding in tree after chase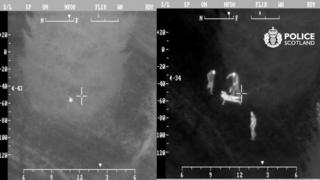 A suspect was arrested after a Police Scotland helicopter spotted him hiding in a fir tree.
The swoop followed a late night pursuit in Glasgow involving the Road Policing and Dogs Units.
Two stills captured from a thermal imaging camera were shared by the force's Air Support Unit on its official Twitter feed.
The first shows the suspect concealed in the tree while the second captures the moment he was arrested.
A police dog and its handler can he seen standing over the man, who is sprawled on the ground, as two officers approach.
The @PoliceScotlandAir account tweeted: "No hiding from the late crew last night! Suspect spotted hiding in a large fir tree following a vehicle pursuit in Glasgow and @polscotdogs and @polscotrpu directed to his location. #keepingpeoplesafe #teamwork"
The force was unable to provide any specific details about the incident.