Drunk passenger spared jail as air crew helped him board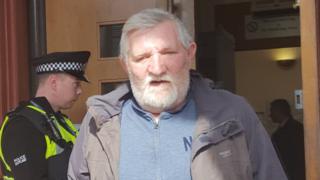 A man who broke another passenger's finger during a flight has avoided jail as cabin crew had carried him on to the plane when he was already drunk.
Andrzej Bielicz, 63, was spotted drinking from an open bottle of vodka at Warsaw Chopin Airport.
Paisley Sheriff Court heard the Polish national was so intoxicated he could not walk properly.
But cabin crew helped him onto the Wizz Air flight to Glasgow and he spent the duration of the journey shouting.
A passenger sitting next to Bielicz tried to calm him down and restrain him as he began lashing out violently with his arms and legs.
But the court heard the accused attacked him, grabbed hold of his middle finger and pulled it so hard he broke it.
'Struggling to walk'
The details emerged when Bielicz, who moved to Scotland seven years ago, appeared in court to be sentenced.
He had earlier pleaded guilty to charges of assaulting Samuel Wojenski and behaving in a threatening or abusive manner, by repeatedly shouting, while on board the flight on 27 September 2016.
A charge of breaking the law by being drunk on board the flight was dropped.
Procurator Fiscal Depute Margaret McCallum said: "He was seen by witnesses within Chopin Airport drinking from an open bottle of vodka and struggling to walk, swaying from side to side.
"At around 18:30 the flight boarded and the witnesses saw the accused boarding the flight in an extremely intoxicated state, being assisted by members of the cabin crew.
"The accused started shouting loudly."
'Heavily intoxicated'
Another passenger asked Bielicz to stop shouting but he refused, trying to get up to square up to the man, but was so drunk he could not stand up from his seat.
Mr Wojenski was injured as he tried to subdue Bielicz, and had to go to hospital when the plane landed
Defence solicitor Tony Callahan said: "He has very little recollection of this incident and accepts he was heavily intoxicated.
"It is somewhat surprising he was even permitted to board the aircraft."
He said Beilicz, who lives in Airdrie, North Lanarkshire, knew he could be jailed for the offences.
But he asked for leniency for the first offender who works as a handyman at a dental practice and helps his niece with childcare.
Sheriff James Spy placed him on a community payback order, as a direct alternative to custody.
Beilicz was also told he will be supervised by social workers, must undergo alcohol counselling and carry out 220 hours of unpaid work.
Sheriff Spy said: "This type of behaviour on an aircraft is very serious.
"Why you were permitted to drink from an open bottle of vodka at Chipon airport, I do not know.
"I don't know why you were allowed to board while drunk.
"The air crew seemed to be playing little part in this disturbance and it seems there was little effort made to contain the behaviour by them."