Two people rescued from stricken boat in Ayrshire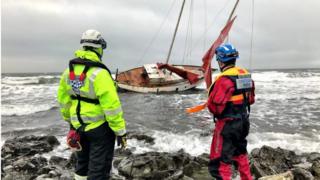 Two men have been rescued from a boat near Stevenston in Ayrshire.
Ardrossan Coastguard Rescue Team were called out just after 13:30 on Wednesday after reports of a vessel in difficulty.
A large sailing boat had keeled over and was taking on water while bearing the brunt of rough sea conditions and the incoming tide.
Lifeboats were unable to reach the boat due to the conditions so a rescue swimmer was sent in.
The two people on board were brought to dry land and taken to Crosshouse Hospital as a precaution.
The rescue team remained on the scene to secure the boat to the shore to prevent it being taken back out to sea and becoming a hazard to shipping.