Fireworks warning ahead of Scottish Cup semi-finals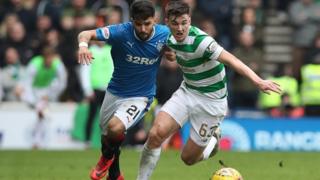 Police Scotland have warned fans considering bringing pyrotechnics to Hampden Park for this weekend's Scottish Cup semi-finals.
Anyone caught with the dangerous items have been told "we will arrest you", as fears over the use of the fireworks increase.
General warnings over drinking and domestic abuse have also been issued.
Aberdeen play Motherwell on Saturday in Glasgow with Celtic and Rangers meeting on Sunday.
Ch Supt Brian McInulty is concerned about the use of flares and smoke bombs: "In terms of Pyrotechnics - that to me is a real issue in terms of safety and its an increasing trend we see across world football.
'Extremely dangerous'
"Sadly in Scotland we are seeing more people bringing pyrotechnics towards the environs of the stadium, to a crowded place.
"We are also seeing them inside the stadium and these are extremely dangerous.
"If you bring one of those to the stadium and light it, you are showing a complete disregard for public safety and we will arrest you.
"You are compromising people's safety around you and your own safety.
"It is important for those attending to remember that to enter the stadium with any of these devices such as flares or smoke bombs is illegal."
The weekend's policing operation will focus on behaviour at the stadium and at home.
Fans have been told to drink responsibly, in particular on Sunday when the Old Firm match kicks off later than usual at 14:30.
More officers have been made available to deal with issues of domestic violence not just in Glasgow, but across Scotland.
Ch Supt McInulty said: "We also have a zero tolerance approach to any form of hate crime so whether that be somebody shouting something in the pub, in a domestic setting, somebody doing it in the stadium or somebody doing that online.
"If we are not able to arrest the person at the time we will carry out thorough retrospective investigations and make sure that we do everything we can to bring those people to justice."
Celtic defeated Aberdeen 2-1 in last year's Scottish Cup final to complete a clean sweep of domestic trophies.
Ch Supt McInulty added: "All the teams taking part have committed and passionate supporters and the vast majority of those fans will want to enjoy the game in a safe environment.
"These are showcase matches of what is best in Scottish football and we want it to be an enjoyable family occasion for everyone watching at the stadium or elsewhere."