Pistol seized from gunslinging pensioner 'Billy The Kid'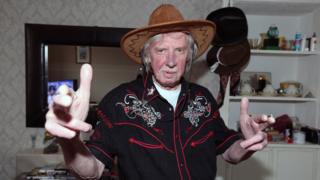 A pensioner nicknamed Billy The Kid had his pistol seized amid claims he was shooting it in the street.
Cowboy and Western fanatic William Holmes regularly attends Glasgow's Grand Ole Opry, where he participates in gunslinging.
But in November he had his imitation weapon confiscated by officers after his neighbours in Paisley raised the alarm.
A sheriff deferred sentence on the first offender for good behaviour.
Birthday drinking session
Paisley Sheriff Court heard Holmes held in police custody over the claims before being released.
But he was back in trouble two days later after a birthday drinking session.
Upon returning home he started shouting at the neighbours he believed were responsible for calling the police.
The court heard he threatened to smash their windows and said he didn't need his firearm - as he was able to fight them himself.
A charge that he had left neighbour William Mathieson, 50, in a state of fear or alarm by repeatedly discharging his firearm in their Paisley street on 20 November, 2017, was dropped.
Threatening behaviour
But Holmes admitted a second charge of behaving in a threatening or abusive way two days later by repeatedly shouting, swearing, threatening violence and acting in an aggressive manner.
The court heard his actions placed Mr Mathieson, his wife Audrey, 48, and their daughter Jenna, 26, in a state of fear or alarm
The Mathiesons, who live in a house facing Holmes' property, were in their house at around 18:25 on 22 November 2017, when they heard shouting and swearing outside.
The police were contacted and Holmes was arrested but he was not cautioned and charged because he was so drunk.
David Nicholson, representing Holmes, described his client as "an avid Western and Cowboy fan".
Mr Nicolson said: "He is a gentleman whose favourite pastime is to regularly frequent the Grand Ole Opry, and he participates in the gunslinging at the end of the night.
"He goes by the stage name 'Billy The Kid'.
"The charge to which he has pleaded not guilty involves a glorified cap gun.
"Police were called and police attended and they have taken the gun away."
The court heard the incident happened the day after his birthday.
'Deeply remorseful'
Mr Nicolson added: "He was out celebrating his birthday, he had consumed too much alcohol, he had returned home and was still quite upset as to the time he had spent in police custody.
"Like the town drunk in the spaghetti westerns, shouting outside the saloon, he had been at his own front door and was shouting at the moon - shooting his mouth off.
"He is deeply remorseful, ashamed and he regrets it."
Sheriff David Pender opted to allow the first offender to go unpunished for the time being, and defer sentence on Holmes for six months for him to be off good behaviour.
The gun was forfeited and will be destroyed by prosecutors but Holmes was allowed to get his gun belt back.